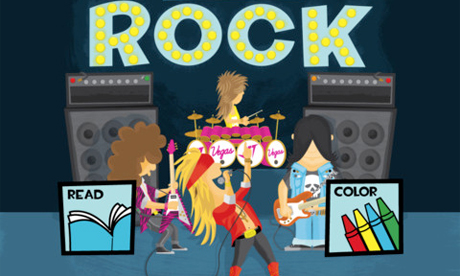 Warner Music Group has made a music-themed colouring book-app for kids
A selection of 10 new apps for you today:
Real Madrid and Portugal star Cristiano Ronaldo is the latest footballer to get his own official app, following in the footsteps of Rio Ferdinand and Michael Owen. The app offers news, tweets, pics and videos, along with social features. Ronaldo is using Mobile Roadie's platform.

This is very intriguing: major label Warner Music Group is getting into… children's colouring book-apps for . Road To Rock tells the tale of "fictional 80s hair metal band Jet Vegas", getting kids to colour in the comic-book cells as they read the story.

Social media site Storify has launched an official app, helping people "mix media from Twitter, Facebook, Instagram and YouTube" to tell stories. The website is already popular among keen Twitter users, but the app should boost awareness of the service.

Entertainment website network IGN has launched a games-focused app, offering news, previews, reviews, tips and video trailers in a tablet-friendly interface.

Another Dr. Seuss app from Oceanhouse Media here: this time an educational app about dinosaurs hosted by the Cat in the Hat. It's the second app in the company's The Cat in the Hat's Learning Library series, following a previous space-themed app.
iPhone /
Blogging company Automattic has launched an official WordPress app for RIM's , joining existing apps on other devices. It can be used to wirte and edit posts and pages, as well as managing comments for WordPress-powered blogs.


iPhone /
A company called Kidscontent has launched a new magazine for girls, with the twist that it's available on the rather than as a printed product. It promises stories, quizzes, crafts, colouring, music and baking.

Gamevil's latest game is Arel Wars, which combines tower defence mechanics with RPG-style levelling up. Campaigns cover 120 stages and eight maps, and there is on-line multiplayer too.

News aggregation app Taptu has a new platform this week: RIM's tablet. As on other devices, it helps you create "streams" of news based on specific topics, with social features layered on top.

Random News
Details :
Submited at Wednesday, February 22nd, 2012 at 2:00 pm on
Mobile Games
by samantha
Comment RSS 2.0
-
leave a comment
-
trackback