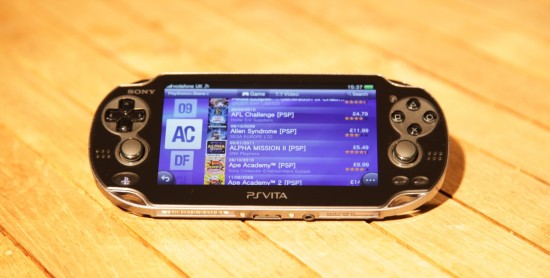 So you've been lucky enough to pick up a shiny new PS Vita on release week, and you love it. There are currently 26 release titles available to buy, but did you know that there are over 250 classic PSP titles that you can also play on your new handheld console?
Listed at the bottom of this article are quite literally hundreds of PSP games that can be installed onto your PS Vita in a number of ways, and we're going to show you just how to do it.
The first, and by far the easiest way, is to buy directly from the Playstation Store. You can do this on your PS Vita provided you have a Wi-Fi or 3G connection, and Sony has filled the store out with tons of great titles for you to buy and download. We found some astonishing throwbacks from Ape Escape to Final Fantasy II. Titles range from free to around £40, even though most are available for less than a tenner.
To download from the Playstation Store, simply tap the 'PS Store' icon from your device's homescreen, and then tap Start in the centre. If you head into the Game category at the top, then scroll down to find PSP games, which you can browse alphabetically. Simply tap one and follow the payment procedure to download it direct to your console.
You may have already bought a PSP title through the Playstation Network before. If this is the case, you can simply redownload it from the same list for absolutely nothing. Nada. Zilch.
If you're a PS3 user then you may know that PSP games can be downloaded there, too. If you've downloaded PSP titles to your PS3 console from the Playstation Store, you can transfer these to a PS Vita console through a fairly straightforward process.
All you need to do is connect your PS Vita to your Playstation 3 console using the USB cable that comes with the Vita. You'll then need to open the Content Manager app on your Vita, which should give you the option to 'Connect to a PS3 System' or 'Connect to a PC'. Choose the former and you'll be able to browse your PS3's file system and copy the PSP games across with ease. The same goes for music, movies and photos.
We've listed the 270+ PSP games that are available to download to your PS Vita right now, and Sony promises that more will be continually added over time. There's an awful lot of them, so we've hidden the list in a press release spoiler. Just click 'Show' to get the full list!
Let us know your thoughts on our comments below or via our @Gadget_Helpline Twitter page or Official Facebook group.
Armored Core: Last Raven Portable
Armored Core: Silent Line Portable
BlazBlue Portable: Calamity Trigger
'94
Land
Legacy
Darkstalkers Chronicle: The Chaos Tower
Dissidia 012 [Duodecim] Prologus: Final Fantasy
Dissidia 012 [Duodecim]: Final Fantasy
: Warriors of Ancient Arts
Vol. 2
: Strike Force
Final Fantasy IV: The Complete Collection
Final Fantasy Tactics: The War of the Lions
Guilty Gear XX Accent Core Plus
Harvest Moon: Hero of Leaf Valley
Innocent Life: A Futuristic Harvest Moon
Legend of Heroes, The: Trails in the Sky
Lord of the Rings, The: Aragorn's Quest Lunar: Silver Star Harmony
2
Anthology
XX
Military History: Commander: Europe at War
NeoGeo Heroes: Ultimate Shooting
Phantom Brave: The Hermuda Triangle
Prince of Persia: The Forgotten Sands
Prinny 2: Dawn of Operation Panties, Dood!
Prinny: Can I Really Be the Hero?
Anthology
2: Innocent Sin
3 Portable
SOCOM U.S. Navy SEALs: Tactical Strike
Syphon Filter: Logan's Shadow
Tactics Ogre: Let Us Cling Together
Tom Clancy's Ghost Recon Predator
Tom Clancy's Splinter Cell: Essentials
Tron: Evolution: The Video Game
2
What Did I do to Deserve This My Lord?
What Did I do to Deserve This My Lord? 2
Z. H. P.: Unlosing Ranger Vs. Darkdeath Evilman
Tags: Get PSP games on Vita, guide, how to, Playstation Store, PS Vita, ps3, Sony, transfer, XMB
Random News
Details :
Submited at Monday, February 27th, 2012 at 7:00 pm on
PSP
by Donnie
Comment RSS 2.0
-
leave a comment
-
trackback